Here's How You Can Coach More People, Make A Bigger Impact And
Earn A Ton More Money In A Lot Less Time
Whether you're just starting out as a coach or you've got all the clients you can handle, you can radically increase your income, your impact and your free time by offering group coaching programs your clients can't resist.
Let me show you how.
You became a coach for all the right reasons.
To help people achieve their biggest goals and wildest dreams.
To have a positive impact on the world.
To go to bed each night knowing that what you do matters.
You also became a coach to experience more freedom, in both your work and your personal life. You wanted to be in charge of your own schedule. And have plenty of time for the things that are most important to you.
But lately you've been wondering…
How can you do this work you love, make a bigger impact and generate a lot more income without also generating a lot more work hours?
How are those 6- and 7-figure coaches able to create such high-impact, high-profit businesses yet still have the freedom, flexibility and free time to enjoy the good life?
The Answer:
Group Coaching.
Imagine what your life and business will be like when you have:
Impact and Income: Unlimited
If you're only offering 1-to-1 coaching, your income and impact will always be limited to the number of hours you are available to coach. But with group coaching, you can help a lot more clients and make a lot more money… in far less hours.
More Time, Freedom and Fun
Guess what happens when you can serve 10, 20, or 200 paying clients in almost the same amount time it takes you to serve one? Your hourly income goes through the roof! And you get more freedom and flexibility in how you live your life and structure your days.
Goodbye, Money Objection!
You know those potential clients and companies who tell you they can't afford to hire you? Well, now they can. Because when you have a group option, you can offer a significantly more affordable coaching alternative… that is still very attractive to the client and highly profitable for you!
Higher Rates, Better Clients
With a group coaching program in place, you can raise your private coaching rates and be a lot choosier about who you work with 1-1. Won't it be great to only work with clients who are 100% committed and happy to pay your top-dollar fees?
Greater Visibility & Credibility
With group coaching, you can quickly increase your impact, credibility and reach as a coach. More people can experience your work, benefit from your expertise and become happy customers who eagerly refer others.
So Why Doesn't Every Coach Offer Group Coaching?
Why Aren't You?
You've been thinking about it, right?
Because you've been paying attention and noticing how other coaches have expanded their reach, increased their influence, up-leveled their visibility and skyrocketed their income with group coaching.
But you haven't made the leap yet because you have questions. Like:
"What should the focus of my group be?"
"What should I call it? How do I price it?"
"How can I be sure to fill it with the right kind of clients?"
"What do I need to know about group coaching in order do a great job and give my clients the results they're looking for?"
These are all great questions.
And I've got the answers.
More Freedom. More Money. More Time.
My name is Michelle Schubnel, and 16 years ago I left my demanding software sales job to launch my full-time coaching business and pursue my dream of being a coach, making a difference and living my best life.
After the initial hurdle of figuring out how to set up my business and get clients, I discovered that achieving my goal of a full practice (which was 24 coaching clients) was so not giving me the freedom, flexibility and financial rewards I'd envisioned when I first started my coaching business.
So I shifted my business model and focused on offering group coaching programs. And oh, what a difference!
Instead of being limited to 24 clients, I could now work with hundreds of clients every year. My income shot up to multiple 6-figures. I was able to double my 1-to-1 rates, and my work was making a powerful, positive impact on people's lives and businesses.
And the best part?
I finally had both the money and personal freedom to live my life based on what was most important to me…
…From being able to fly across the country month after month to spend time in New York with my mom who had cancer… to enjoying month-long vacations with my husband in exotic places.
It didn't take long before other coaches started begging me to show them how to master the art of high-impact, high-profit group coaching. And that's how The Group Coaching Success Program was born.
This proven, step-by-step system has helped hundreds of coaches just like you grow their business faster, make a much bigger impact and skyrocket their income by leveraging the power of groups.
Ready to get started?
Let me show you how.
Introducing…
The Group Coaching Success Program
How to Design, Market, Fill and Deliver Lucrative and Rewarding Group Coaching Programs…
Even if You Are Brand New to Coaching Groups
This comprehensive, step-by-step program gives you everything you need – the tools, templates, systems, resources, guidance and support - to quickly get up to speed and be on your way to a more lucrative, leveraged and lifestyle friendly coaching business.
You don't need to waste your precious time trying to figure out how to make group coaching profitable and fulfilling for you.
Forget about feeling lost, confused or uncertain.
Because I've done all the work for you!
Lifetime Access To The Proven, Step-By-Step Group Coaching Success System
#1 – You'll get the proven, step-by-step Group Coaching Success System (a $5,000 value) so you can get up to speed fast, know exactly what to do and be certain of your success. Lifetime, 24/7 access to the Online Member Area so you always have the resources you need.
Group Coaching Success "Get-It-Done" Bootcamp with Michelle Schubnel
#2 – You'll receive my guidance every step of the way in the Group Coaching Success "Get-It-Done" Bootcamp (a $5,000 value). Fast-track your results with 10 weeks of professional coaching, guidance, mentoring and support from Group Coaching Expert Michelle Schubnel.
"My First Coaching Group Was An Absolute Success"

"I had done some private coaching, seminars and created an online product before taking the Group Coaching Success course, but I really wanted to work with groups. And thanks to Michelle's help, I got the opportunity to do so at the beginning of this year. Michelle showed me step-by-step how to design my group, what kind of marketing to do and how to do it. Thanks to that, my first coaching group was an absolute success! I felt very, very prepared and am really excited to offer more groups in the future."
"Motivated Me To Take Action Right Away"

"Michelle's Group Coaching Success Program motivated me to take action right away. While studying the content-rich materials and participating in her dynamic group calls, I designed, promoted and launched my first group coaching program for writers. Feedback from Michelle helped me create an effective sales page and forge ahead, pushing aside any perceived obstacles. The result is an exciting program addition to my coaching practice and an expanded clientele."
"I Learned So Much And Benefited In So Many Ways"

"I learned so much from the Group Coaching Success Program and the course has benefited me in so many ways. I was able to start my own group coaching program because I got clear about the design and structure of my group, figured out the pricing, content and length of the program and set up specific systems and tools so I could confidently deliver for my clients.

All of this would not have been possible if I did not take the course with Michelle.

My sincerest gratitude to Michelle and her team. Group Coaching Success is an excellent program for anyone who wants to coach groups. Michelle has been a great coach and mentor for me to learn from."
"Launched 1st Coaching Group With 33 Participants"

"Group Coaching Success is an excellent program. The framework has been very helpful because it shows step-by-step what's involved and how to add a lot more leverage to my business. I launched a coaching group with 33 participants as a follow-on to a recent training. It's great to be able to reach more people and increase my income by coaching groups."
Module 1
Module #1: Design Your Coaching Group
What are the secrets for creating a group coaching program your ideal participants will find irresistible at any price? Here's some of what you'll find out…
How to identify, find and connect with your ideal group participants.
The perfect topic or focus for your group so people can't wait to sign up.
The best structure for your group so it's a perfect fit for you, your business model and your target market.
How to price your group for maximum profitability and accessibility.
How much content you need… and what to do if you don't have any of your own.
Bonus items you can include to stand out from the crowd and increase the value of your group.
Module 2
Module #2: Market and Fill Your Coaching Group
Get the insider secrets and proven systems to effectively market and fill your group programs, including:
The proven marketing strategies that make attracting and enrolling participants a breeze.
How to make that essential emotional connection so people don't think twice before joining your group.
The trick to creating special offers and calls-to-action that motivate people to say YES on the spot.
What you need to include on your sales page to get the best results possible.
How to handle registration logistics so you don't lose people during the enrollment process.
Plus… customizable templates and scripts for your sales page, email promotions and more.
Module 3
Module #3: Set Your Group Up For Success
Discover the most efficient, hassle-free ways to handle the management and administration of your group so it runs like a dream.
How to set up your registration and sign up process.
The various ways to collect payment and how to choose the best option for you.
The secrets for getting the people who sign up to show up.
The technologies you need if you are running a virtual group… and how to choose between all the different options.
How to allow the group to influence the agenda while still keeping your sessions on track.
Module 4
Module #4: Group Coaching Skills and Secrets
Develop the critical core group coaching skills you need to confidently lead and coach your group… in person or by phone… even if you've never coached a group before.
Learn how to leverage your current coaching skills in the group environment.
Discover a fool-proof strategy for handling challenging participants and situations.
Know exactly what to do in the first session to start your group off strong.
Create the perfect framework for your group sessions so they run without a hitch.
Understand the critical importance of establishing group guidelines and ground rules, and how to get participant buy-in.
Plus, you'll also discover what you need to do differently so you are super successful when coaching groups within companies and organizations.
Phenomenal Results… Fast
Since 2009 I've been helping hundreds and hundreds of coaches just like you get fast and reliable results with my step-by-step Group Coaching Success System. Most of these coaches had never coached a group before!
But now they're rocking it, bringing in more income than ever before and having the time of their lives serving more clients while enjoying more freedom and fun.
This is the same system I have used and fine-tuned for years to generate hundreds of thousands of dollars in group coaching income and months and months of time off.
I'm telling you, it works.
And it works fast.
There's no need to reinvent the wheel.
Instead, you have a proven, step-by-step formula that covers all the bases. And you get the materials, tools, templates, and resources you need. As well as the personal guidance and community support to stay on track and enjoy your journey to massive group coaching success.
Let's get started!
Here's how the Group Coaching Success Program works:
1. Lifetime Access to the Group Coaching Success Private Member Area (Value: $5,000)
As soon as you register, you'll get instant access to the Group Coaching Success Private Member Area, which contains all the materials, lessons, tools, templates, resources and everything else you need for the course.
You'll have access to this course and all the materials forever so you can review or refer to them any time you want.
2. The Group Coaching Success "Get-It-Done" Bootcamp with Michelle Schubnel (Value: $5,000)
To accelerate your progress and make sure you're fully supported as you're learning and implementing the step-by-step Group Coaching Success system, you'll receive 10 weeks of live group coaching, mentoring and guidance with Michelle Schubnel in the Group Coaching Success "Get-It-Done" Bootcamp!
That's Not All!
The program also includes these 2 Hands-On Virtual Workshops:
LIVE Virtual Workshop #1: Create Your Own Signature Coaching System (Value: $2,500)
If you're serious about building a sustainable, thriving coaching business, you need to position yourself as an expert. An expert who has a proven system for getting results.
In this Live Hands-On Virtual Workshop, you'll transform what you know into your own signature coaching system… a system you can use in both your group and 1-to-1 coaching… or even your own online course.
LIVE Virtual Workshop #2: Fill Your Group Program with Teleseminars and Webinars (Value: $2,500)
One of the best ways to fill your group programs is by offering a free teleseminar or webinar, a training that provides true value and inspires people to take the next step and join your group.
In this Live Hands-On Virtual Workshop, you'll create a free teleseminar/webinar that serves your audience without giving too much away and develop a non-salesy offer you can use to fill your group coaching program right away.
"Gave Me The Structure I Needed To Get It Done"

"Before joining Michelle Schubnel's Group Coaching Success Program, I had tons of information as well as the skills and experience for planning, designing, and marketing phone-based group programs, but somehow I never got around to doing it. Michelle's program gave me the structure I needed to get it done as well as a place to ask questions, so I could get right all of the details it takes to create a successful group coaching program.

Two months after the program, I launched my coaching group!"
"All Of My Groups Have Been Full!"

"Since joining Michelle's program, all of my groups have been full; in fact, enrollment has more than doubled due to one simple secret that she taught me. This shift was almost instantaneous. Wow!"
"Created 2 Programs After The First Few Sessions…"

"Michelle's Group Coaching Success Program was fantastic! I coach in the Fortune 500 and was able to create two programs in a short timeframe after attending the first few sessions. Michelle has an inspiring style and her training and bonus materials far exceeded my expectations.

The value is exceptional and I would not hesitate to recommend the program to people new to coaching, or people who are seasoned coaches. Group coaching is a great way to diversify your coaching toolkit. Thank you, Michelle!"
"Your Materials Helped Me Show Up Calm, Prepared, Confident Leader"

"I just led the first meeting of my first group! I loved the experience today. Your materials helped me show up as a calm, prepared, confident leader. Thank you! I'm loving this program and all you've put in to it."
Here's How to Get Started Today
Join now and your tuition investment is only $1,997.
Or make 6 easy installments of $397.
And When You Sign Up Today, You'll Get These 3 Bonuses for FREE!
BONUS #1: Insider Secrets from 11 Successful Group Coaches (Value: $1,500)
Get the inside scoop as these 6-and-7 Figure Coaches reveal their best strategies and secrets for being successful with groups, including…
How to earn $200K+ coaching groups working only a few days each month, an unconventional enrollment tactic for landing big contracts, techniques that work like magic for creating cohesive groups, a clever strategy that opens doors in the corporate world when you're just getting started… and so much more!
BONUS #2: List-Building Secrets for Coaches Program (Value: $2,000)
You don't need a huge list to market a successful group program, but it sure helps!
Discover step-by-step how to grow and nurture a large and responsive e-mail list so that you always have a steady stream of new clients and customers.
You'll get the truth about why so many coaches make BIG mistakes when trying to grow their list (and how to avoid it), what you need to know about email list management, the best types of "free gift" to offer (and which ones to avoid), the 5 Keys to Success for developing a loyal email list, and a lot more.
Bonus #3: Lifetime Access to Our Members Only Facebook Group (Value: Priceless)
You'll have lifetime access to Michelle, her team and our amazing community of coaches through our private Facebook Group so no matter where you are in your group coaching journey, you'll have a perfect place to brainstorm, get expert advice and helpful support.
Now… let's get REAL.
The total dollar value of the Group Coaching Success Program, which includes the Online Training, the 10 Week "Get-It-Done" Bootcamp, the 2 Hands-on Virtual Workshops and the 3 Special Bonuses is $18,500.
But that's just the dollar value.
The real value is this:
For only $1,997, you get everything you need to quickly, easily and effectively design, market, fill and deliver group coaching programs that can radically increase your income while dramatically decreasing your work hours.
For $1,997, you will get the skills, means and know-how to earn hundreds of thousands of dollars every year, serve as many clients as you choose, and take your coaching business to new heights of visibility, credibility and renown.
And that 1-to-1 coaching income ceiling? Obsolete.
For just $1,997, you'll be able to turn your love of coaching into a sustainable, highly leveraged business that allows you more freedom, fun and free time than you can even imagine.
You're not investing in a group coaching how-to program.
You're investing in unlimited income potential, increased impact on those you were meant to serve, a strong, sustainable business model and the life and lifestyle you've always wanted.
Here's How to Get Started Today
Join now and your tuition investment is only $1,997.
Or make 6 easy installments of $397.
Got Questions? Here Are Some Answers.
Q: I've coached some groups before. Will I still benefit from this program?
If you consistently fill your groups and they run like a dream, then you probably don't need this program.
However, if you want to market and fill your groups more easily and enhance how you coach and run your groups, you'll definitely benefit from the Group Coaching Success Program.
Q: I want to run groups for companies and organizations. Does the program address this?
Yes! Most of what is taught in the program applies to both public coaching groups marketed to individuals and private coaching groups offered in companies and organizations.
In addition, the Group Coaching Success Program has special information, templates, resources and training specifically for coaches who are doing work in companies and organizations.
Q: Don't I need a big email list to fill a coaching group?
While it helps to have a large and responsive email list, it's certainly not necessary. In fact, during the marketing section of the program you'll discover how to fill your group even if you don't have a list yet!
Plus, you'll get my List-Building Secrets for Coaches training as one of the Bonuses so if you currently have a small (or even a non-existent) email list, this bonus will help you grow a big list fast.
Q: Is this program about coaching groups by phone or in person?
Both! Almost everything taught in the program applies to group coaching by phone and in person. We also provide relevant instructions and guidance specific to phone group coaching and in person group coaching.
Q: How do I know if this program will work for me?
Let me ask you… are you ready and excited to coach groups? Are you willing and able to take consistent action and not give up? Can you follow a step-by-step system? If you answered yes to those 3 questions, we believe this program will work for you and we'll provide you with the training, coaching and support to help you be successful coaching groups.
"Of All The Investments I Have Made, This Is By Far The Most Valuable…"

"Of all the investments I have made in myself and my new coaching business, this is by far the most valuable. Not only have I become clear about why coaching groups will be a critical revenue stream as I grow my business, but the Group Coaching Success Program has provided the structure, resources and materials for introducing groups, and has increased my revenues, immediately and with integrity.

You are truly one of the most generous and patient mentors and I can't recommend your programs highly enough. If anyone is on the fence, feel free to have them contact me!"
"I Now Have Three Ongoing Coaching Groups"

"I've been a coach and a retreat leader for over ten years. Aside from my retreat participants, most of my client base had been individual clients.

I joined the Group Coaching Success Program because I wanted to move away from individual coaching and focus instead on coaching groups. I am so glad I joined! I love Michelle's detailed, direct, and practical step-by-step approach in her training. Plus all the useful templates, sample materials and marketing insights made it easy for me to move forward. As a result, I am thrilled to report that I now have three different ongoing coaching groups with participants who want even more.

If you are a coach who wants to start coaching groups, I absolutely recommend Michelle's Group Coaching Success Program."
"Launched First Group in 3 Weeks"

"I have been a health and wellness coach for almost 20 years and have conducted seminars and workshops for various organizations. What I really wanted to do was to reach my readers around world by conducting training programs online. Group Coaching Success gave me all the tools and resources to do my first online group coaching program only three weeks after the training started. The income I received for my group coaching program quickly paid for the investment I made in this course and more important, made a positive impact in the lives of the participants. Group Coaching Success met, and exceeded, my expectations. I highly recommend it."
"Booked $200,000 Of Group Coaching Business In 6 Weeks"

"For more than 20 years I've been coaching executives and leaders in organizations from $100 Million - $4 Billion in annual revenue.

Michelle Schubnel has an amazing process to help coaches grow their business and income through group coaching.

The reason I'm so high on Michelle's work is because if you do what she says, it works. I followed her Group Coaching Success System and was able to bring in $200,00 of group coaching business in just six weeks.

So, take it from me, from someone who has done this for a long time and makes serious money doing it. If you follow what Michelle teaches, you can make serious money too."
Here's How to Get Started Today
Join now and your tuition investment is only $1,997.
Or make 6 easy installments of $397.
This is Your Ticket to The High Profit, High Impact Coaching Business You've Always Wanted
You've been searching for the best way to structure your coaching business so it's financially stable and sustainable, so you can stop worrying about money and truly enjoy both your work and your free time. Now and for many years to come.
The Group Coaching Success Program is the answer. Don't miss this opportunity to get the expert guidance, training, tools and support you need to make a much bigger impact and income by working with groups. It's time to open the door to unlimited income and create your ideal coaching business. One that gives you the freedom and flexibility you've always wanted, while making the world a much better place.
I can't wait to show you how to design, fill and deliver your own high quality, high profit group coaching programs that grow your business, boost your visibility, and support you in living a life you truly love.
It's your time!
Michelle Schubnel
NEW BONUS! Join Today And Receive...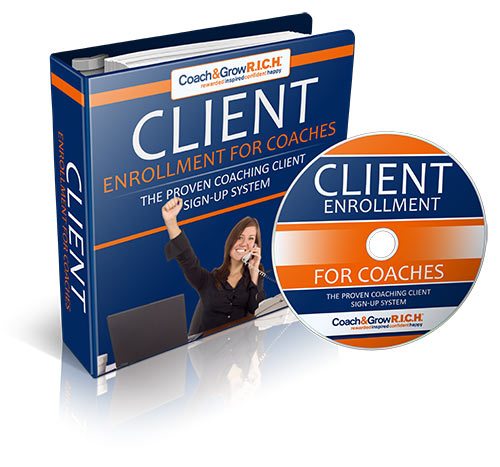 Client Enrollment for Coaches - The Proven Coaching Client Sign-Up System (Value: $2,000)
It's really hard to fill your groups if you don't know how to enroll and sign up news client. The good news is this is a totally learnable skill!
So when you join the Group Coaching Success Program before the end of today, you'll receive the proven, step-by-step "Coach & Grow R.I.C.H. Client Enrollment for Coaches Training" so you can consistently sign up new clients.
Here's How to Get Started Today
Join now and your tuition investment is only $1,997.
Or make 6 easy installments of $397.
Group Coaching Success Program Guarantee
We are 100% committed to giving you the training, strategies, resources, tools and coaching that set you up for being successful with group coaching. Our goal is to deliver what we promise and so much more.
That's why we guarantee that our program will show you how to design, market, deliver and administer a successful coaching group when you do the work and implement the system.
We're so committed to you getting the results you want that if you're not experiencing them, we will make sure that you get extra support from our team.
If you do the program assignments, attend the Bootcamp calls or listen to the recordings, take action and implement what you learn, ask for support and still don't feel we delivered on the promise… all we ask is that you complete the refund questionnaire and then have a phone conversation with someone on our team within 4 months from the start date of the Group Coaching Success Bootcamp program and we'll promptly make arrangements to return your investment. The one simple condition is that you must actually use the program by going through the online training materials, attending the calls, doing the assignments and taking action.